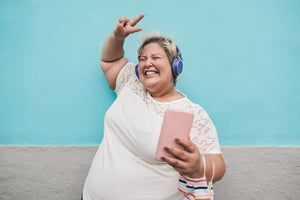 Five at-home workouts for overweight people who are too shy to leave the house
I totally get it, when I first decided to start an exercise routine my greatest fear was being in public. It was more than enough that I have to deal with all the implicit anti-fat bias in my everyday living. So going to a gym or some other physical group exercise event was daunting. But even if you're a little shy or simply not wanting to be around people as you engage in a plan to improve your physical fitness, starting with at-home workouts is a good plan.
But where to start with my at-home workout?
Shake your booty
There is nothing like the feeling of dancing, moving your body in simple and sensual ways. For those of us in bigger bodies, we're not often afforded the opportunity nor are we encouraged to take up space. Dancing is all about taking up space and feeling good. Did I mention that dancing is a fun way to get your heart rate up and you can burn as many calories as you want? It will be dependent on intensity and time, so let loose. You can follow along with online dance classes or just turn on your favorite music and dance around your living room. Do you boo!
Find some stretchy or rubber bands
Resistance band workouts are good for getting those muscles activated and have been scientifically proven to support good cardiovascular health. You can either find some stretchy fabrics around the house (t-shirts, stretch pants, towels, swimsuits, whatever you can find) or purchase some resistance bands. Both options are portable and an affordable way to add resistance to your workouts. Explore the many online resources available that offer resistance band workouts for people of all fitness levels. Select an easy routine and then graduate into more and more difficult workouts. You will see your body transition quickly over time, so be patient.
Channel your inner zen
Don't sleep on Yoga. Quiet as it's kept, yoga can be one of the best ways to improve your physical fitness. Benefits include increased flexibility, improved overall muscular strength, and balance. Our bodies want to sustain homeostasis but this requires us to be in balance between the mind, body, and soul. What I love most about yoga is the idea of paying attention to the body, honoring the body with movement, and engaging in movements that are easy yet challenging on the body. I'm not opposed to making up your yoga routine, you can do this by taking bits and pieces from the many online resources available. Using your current level of fitness and the yoga movements that feel right for you, your yoga journey can be the start of achieving optimal health.
Use Your Own Body
As obvious as this is, if you're anything like me, I forget on a daily basis that I can use my own body. The best part of using bodyweight exercises, I can do them anywhere and I do mean anywhere. Plus, I love knowing I can do such things as push-ups, squats, and lunges but in my own way, at my own intensity, and as few or as many as I want. The fact that I don't have to be dependent on equipment is finally, there are so many modifications I can use and can be dependent on my fitness level or energy level. I know this won't apply to any of you but there are days when I am lazy, so I'll do 10 sit-ups, 10 squats, 10 push-ups, and 10 low-intensity jumping jacks. That's all I'm going to do but at least I did something, feel me?
Get your heart rate up for a moment
The short burst of intense exercise is right up my alley because I have this tendency to be lazy and HIIT (High-intensity interval training) is my go-to when I'm short on time but want to feel good about working out. The beauty of HIIT is that you can use just about any form of movement which means you can keep your routine fresh.
The most important thing you can do is listen to your body and take rest days as needed. But even if you're a little tired, pick one of these options and do something for 3 to 5 minutes, your body will thank you in unimaginable ways. So no more excuses, start your routine today in the privacy of your own space. Don't be surprised when in a few months, people are asking you about what you've been doing, you can tell them it's nothing really, you do a bit of working out at home.
---